View Map
Javascript is required to view this map.
Venue and Travel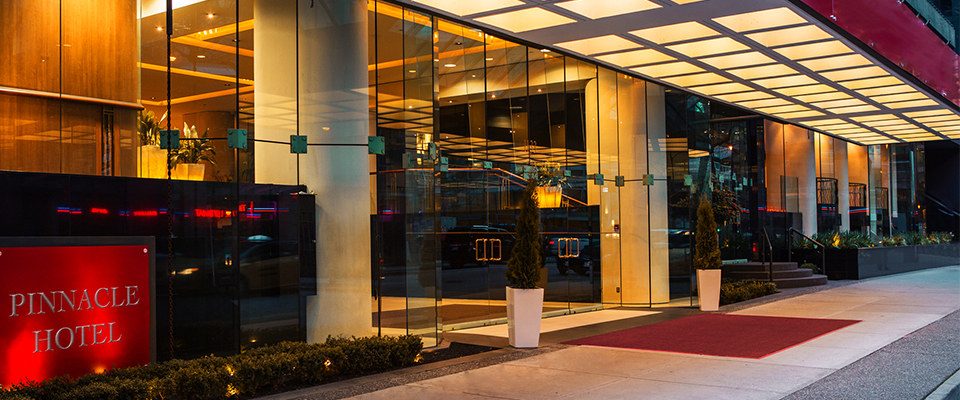 The 2015 Meeting is being held at the Pinnacle Hotel Vancouver Harbourfront.
Accommodations are included in the registration fee. Single and double accommodation (sharing) are assigned based on associated registration rates.
Local Transportation Information
Air, rail and other transport costs are not covered in the cost of registration and are the responsibility of the conference participant.
Please visit the airport website for information regarding transportation to the hotel.
We recommend the Canada Line rail service for travel to downtown Vancouver. Travel time from the airport to the Waterfront Station is approximately 30 minutes and a one-way fare is $9.00 or less. The hotel is located approximately 4 blocks west of the Waterfront Station, along West Hastings street.
Conference attendees are encouraged to arrange air and rail travel with Uniglobe Lexus Travel.
Botty Csillag
botty@uniglobelexus.com
UNIGLOBE Voyages Lexus (Bureau-chef Corporatif)
1411 rue Peel, bureau 403
Montréal, QC, H3A 1S5
t.: 514-397-9221
f.: 514-397-2679
www.uniglobevoyageslexus.com
Please quote discount code CHGSM4 when booking.
Local Restaurants
Rogue has two restaurants nearby – one in the Waterfront SkyTrain station, and one just a couple of blocks from the hotel. Both serve trendy food and a large number of local craft beers.
Steamworks, a brewpub just past the SkyTrain, has nice harbour views.
Cactus Club Cafe is very close to the hotel.
Chewie's Steam and Oyster Bar.
If you go a couple of blocks East past the SkyTrain, there are a lot of popular eateries in the Gastown area of Vancouver.
Expense claims
If you have expenses that are eligible for a travel claim, please complete this Travel Claim form
Please submit claim forms with original receipts to:
Mary Solana
Financial Officer
CIHR- Institute of Genetics
McGill University
Life Science Complex-Bellini Building
3649 Promenade Sir William Osler
Room 275
Montreal, Quebec H3G 0B1
Tel: (514)398-3080
Fax: (514)398-1684
Email: mary.solana@mcgill.ca
Deadline:
Reimbursements following the meeting will be possible upon submission of an expense claim form with original receipts and boarding passes (by May 29, 2015).